Personal Training Bristol | Tabaka FITNESS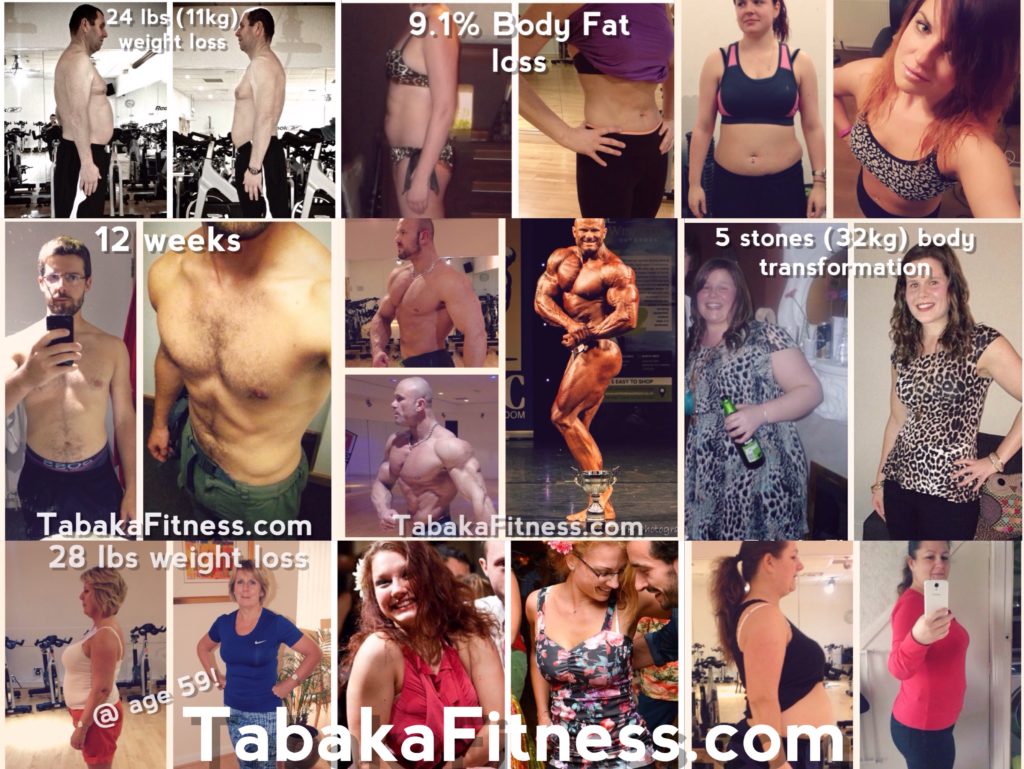 Listen to Vinay's testimonials:

Listen to Adam's testimonials:

Listen to Tamin's testimonials:

Alana

I have been training with Jan now for just over 5 months with my primary aim being to lose weight and improve my fitness. The results have been fantastic. I have lost just over 5 stones and dropped 6 dress sizes! Not only have I lost weight I have gained so much knowledge with regards to exercise and the best types of exercises to achieve results. Jan has also provided me with endless hints and tips with regards to my diet and why he recommends the types of foods that he does, to give me a better understanding so I can make the right choices. Thanks to Jan I now enjoy exercise and look forward to training as he provides a friendly atmosphere to train in whilst always pushing and motivating you to achieve you're maximum potential. Personal training, for me, has been one of the most positive changes I have made.

Alana's stunning 5 stones weight loss in less than 6 months!
Ashley

I first came to Jan out of curiosity to check my body composition (body fat percentage etc) and to seek some general advice. I've always eaten relatively healthily and trained hard but I wasn't getting the results I wanted. Jan's advice has enabled me to make small tweaks and changes in my diet that have really accelerated my results. I have only been working with Jan for just over a month and I feel I have made some of my best progress within this time. I would recommend Jan to anyone serious about getting results.

Ashley aiming to drop down to 6% Body Fat!
Grzegorz (1st place in NAC Bodybuilding Championships, Manchester 2015)

Jan was consistently helping me with preparation for a NAC Bodybuilding Championships in Manchester (as a qualifier to world championships) where I've earned a First Place in the UK! He was professionally measuring my body composition (inc. body fat) and helping me with diet, nutrition supplementation. He's also helped me with posing. I would say Jan is one of best trainers I was working with.

Regards Grzegorz Rudnicki

Grzegorz (1st place in NAC Bodybuilding Championships, Manchester 2015)
June (age 59)

I was on the brink of cancelling my gym membership as I had not been to the gym for about 2 years. The visits had been few and far between as when I did go I didn't see any benefits from my workouts.
I stumbled across Jan's business card on a notice board and as I had put on weight and had great intentions of going to the gym, but really had no motivation, I thought I would give him a call.
The initial consultation included goals I wanted to achieve and an analysis of my dietary habits!!
I trained with Jan for four months in total and had one hour sessions two/three times a week. The first two months were predominantly circuit training which I must admit were really hard going at times but this certainly built up my stamina and strength.
Jan is extremely focused in what he does and changes the routines to use different muscle groups and to keep interest up. He also keeps a close eye on your form to make sure you carry out the exercises correctly so no injuries are sustained.
When carrying out the routine he has a unique ability to push you to your limit and that little bit beyond, without you realising. He has such a pleasant manner that you don't want to let him down and this strength has carried on throughout my training without him.
In the 4 months that I trained with Jan I lost just under 1 stone in weight which I thought would be impossible as I am of a more mature age and had all the usual symptoms of this age group – lots of midriff/body fat and non existent metabolism. I'm sure I must be one of the oldest clients he has had to endure. I'm 59!!
However I stuck to the exercise regime and changed my diet to clean eating, as advised by Jan and also cut out a lot of sugar.
I have now achieved my goals, which is 1 year on from my initial start date. I have lost 2 stone in weight, dropped 2-3 dress sizes, feel healthy and strong, have gained confidence and exercise has become a habit in my lifestyle.
Jan is an excellent trainer, one of the very best. He motivated me to keep going and the results have certainly been worth it.

If you are looking for someone to inspire you to loose weight Jan is your man.

June (age 59) smashing 28 lbs weight loss despite the age or crashed metabolism and being tired of trying 'new' things.
Monika (age 40)

Thank you very much for giving me this fantastic opportunity to work with you.
You are wonderful person who can change other people's life. And you definitely changed mine!
I'm absolutely delighted with the results and will do everything to continue work you have done.
I highly recomend Jan to everyone who wants to do something for themselves.
He's very profesional and know exactly what he's doing and talking about.

Monika (age 40): 14 lbs of pure body fat gone in just 3 weeks after the diet analysis session!

2months later
Derek (age 59)

I'm 59 and have never ever been to the gym before. I needed a Personal Trainer to motivate me to get fit and tone up. So I signed up with Jan for 26 sessions (13 weeks). After 16 sessions with Jan my body shape has changed and my fitness level has improved. Jan also advised me on my diet, now I'm eating healthier. After 16 sessions with Jan I have lost 1st 10lbs which is phenomenal. The bottom line is Jan gave me nutritional information to ensure my diet supported my training and weight loss target and I have also toned up dramatically. I have still 10 training sessions to go to achieve my goal of getting fit and getting my weight down from 15st to 13st only 4 lbs to go.

I'm 59 but now I feel like 29 again!

I'm thankful to Jan for helping me to achieve my goal and would recommend Jan as a Personal Trainer to anyone looking for a Trainer.

Derek (age 59) amazing 24 lbs weight loss despite no prior gym experience but just a pure will to drop weight.
Laura

He gave me the skills I needed for life.

This man was my saviour. Not only did I need to loose weight but I also needed a friend, and that's what you get with Jan. He helped me care about me again. It wasn't all about hitting the gym and pushing yourself to the extreme, he helped me cater to my ibs diet and the motivation was almost like family. I suffered really badly with my depression and anxiety at the the time I was training with jan, and he always had an ear to listen. And better yet advice for positive thinking and Outlook.

Jan cares … he is amazing in what he does and helped me in a way I never knew I could even be helped.

I owe a lot to this man and recommend his personal training to anyone, even if you have a medical condition- this man cares enough to make sure you get the best service applicable.

Laura was in a dark place when she came to see me. With holistic approach to lifestyle, training and IBS diet she regain the strength she needed to take charge of her life! Now feeling much better and stronger than ever before.
Suzi (age 37)

After being diagnosed with hyper mobility Joint syndrome I was advised by the rheumatologist to go back to the gym. I needed specific exercises not only to get me fit but to strengthen my joints due to their instability.

It was through the gym that I met Jan and from day one he has tailored my workouts to take into account my "dodgy" joints but without going to easy on me. He is very approachable and has given me great advice on workouts to do at home as well as nutritional advice. I decided to do a 13 week course with him, meeting him twice a week but the difference I saw in that time was so amazing I am now on my second 13 week course. Within that first 13 weeks, I dropped a dress size, got remarkably fitter and had no back pain, hence the reason I am choosing to stay with Jan as long as possible.

Jan is always enthusiastic, and pushes me to my limits in a caring but no nonsense way, if you are willing to work hard for your results and get great advise about fitness, diet and general wellbeing, Jan is your man.

Suzi (age 37) getting abs out first time in her life! She managed to drop 9.1% Body Fat and 2 dress sizes despite having sciatica, post pregnancy belly fat, family and blah blah excuses.
Robert (age 47)

Thanks Jan for wonderful work and time you spend with me at the gym.
I can't be more grateful with the results I've achieved. You gave me so much positive energy and belief that i can do whatever I want now!

I can easy say few facts about Jan – very high standard – very professional – Fantastic, individual approch to customer – He really has passion for what he's doing – Excellent qualifications and knowledge – Great person and big inspiration.

Highly recommended to everyone who wants make big difference and change their live.
Thank you Jan!!!

Robert (age 47): 6kg down and 2 inches at the waist gone in just 5 weeks!
Jerry

I'm 29 and I have not been to gym for the last two years and because of that I had gained weight and I was not getting the motivation to get back to the gym and start working out.
So I needed some one to get me motivated and guide me to correct my technique so that I don't get long term injuries.
So I turned to Jan who is qualified and knows what is talking about. I joined for a three months training where he planned a training schedule for me.
He made sure I eat the right and balanced food which helped me loose fat and gain muscle definition. After 3 months of training I was having a body fat drop of 4.8 % and I was down from 88Kg to 79kg whilst adding inches on my chest and arms.
I am very happy about the results achieved and I would recommend Jan Tabaka to anyone for achieving their fitness goals.
Angus

Signed up for a 3 month deal with Jan at DW having been out of training for a while with a leg injury. After first 2 months of training with Jan I have managed to put on amazing 5kg of lean mass whilst maintaining my body fat at very lean 8.1% ! Jan was really good for correcting my technique on bigger lifts and kept updating the program to stop me getting bored or losing motivation. I also opted to do the body measurements which were good for monitoring progress and putting numbers against it. Would definitely recommend training with Jan if you have a specific goal.
Donna

When I started training with Jan I was pretty clueless about weights and the gym. I had been a member at DW for many years but only went to the group exercise classes. I decided to go to a PT as I had hit a bit of a rut and often couldn't get a place in the classes as they were busy. From my first session with Jan he put me at ease. He is very personable and extremely knowledgeable about his field. He created a program for me that was modified during the block to ensure that it remained interesting whilst achieving results. The results were visible quickly (Body Fat went down from 27.3% to 24.5% in just 3weeks), particularly losing inches in my arms (no more bingo wings!), thighs and waist. He also helped me with my diet and kept an eye on this to ensure that I wasn't under eating or eating the wrong foods. During my pre booked block my body composition changed for the better. I feel fitter, more healthy and am not afraid of using the weights in the gym anymore. I cant recommend Jan highly enough. His teaching style suited me in that he was informative whilst fun, held me accountable and made the sessions fun. I still cant jump to save myself but I have fun trying.

Calum

I have been training with Jan for almost 2 years, 2 sometimes 3 times a week with sessions varying between strength work, cardio, running and cross-fit.

My original goals were to reduce the level of insulin I have required for Type 1 diabetes for the past 3 years by increasing overall fitness and metabolism.

Jan tailored my exercise program, in conjunction with nutritional advice, to allow me to slowly reduce my levels of insulin, monitored by my diabetic clinic doctors, to a point where I now control diabetes purely through exercise and diet, much to the surprise of those doctors.

My weight has remained constant while my body fat has dropped by 10%. I feel healthy and strong and feel confident that I can maintain this healthy lifestyle.
Brian

Started training in middle of January on my own and after a few weeks Jan came over to speak to me to offer some assistance.We set up some personal goals which were to lose 1.5 to 2 stone before July 28th for my wedding, so starting at 18 stone 1lb we put a put a plan in place of 1 session per week with Jan and another 2-3 sessions on my own per week following his 3-4 different routines which he updates and changes every 2-3 weeks.

The first few sessions were tough, but enjoyable and slightly different from what i was doing on my own. We are now 14 weeks into the plan and i have lost 1stone and 2 pounds with 9 weeks left before the big day!

Very happy with results so far, have lots more energy and been nice getting comments from other people on the difference that this has made.

Thanks Jan
Filipe

I'm 32 and haven't exercised regularly for 10 years. I was feeling out of shape and had lots of back pains due to my profession (dentist). After 13 weeks of regular training with Jan my fitness levels have increased dramatically, my back aches are gone and overall I look better and definitelly feel better. I managed to add a few inches to my chest, arms and legs and at the same time lose over 3kg of pure fat which improved my muscle definition and revealed my abs I haven't seen in years.

His holistic aproach is fantastic as he gave me great knowledge on how I should change my diet and lifestyle to maximise my training results without struggles. He also gave me great knowledge regarding exercising to the point that I now feel very comfortable in training on my own knowing that I'm doing the right exercises for me in the proper way.
Scott

I have been training with Jan for several months now and I am already feeling the benefits!! Jan is a motivated, enthusiastic and very knowledgeable personal trainer who has helped me towards achieving my fitness goals. I would highly recommend anyone considering personal training to get in touch with Jan!