Acroyoga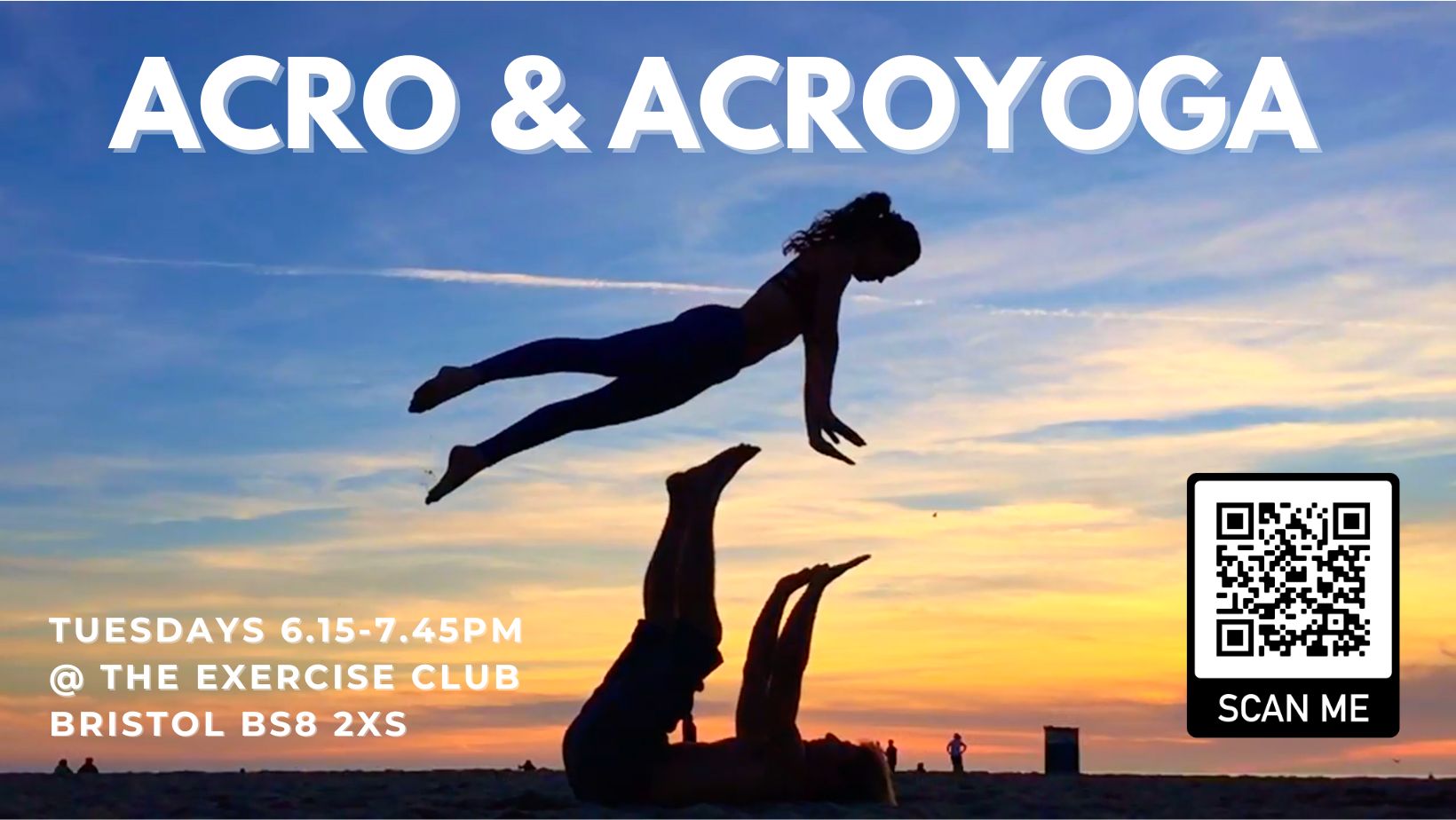 Ever wanted to fly or find your inner ninja? Learn the basic elements of partner based acro yoga.
No Yoga or Acrobatics Experience required
No Partner required
Class is intended for anyone keen to try it 🙂
Acroyoga Classes In Bristol (Clifton)
🔥🔥🤸‍♀️ Acroyoga Tuesdays – let's play some acro together! 🙃 🔥🔥
Every Tuesday 6.15-7.45pm

all levels 90min class from beginners, and improvers to intermediate

@ The Exercise Club (in the studio upstairs).

£14 cash/card drop ins, or Monthly Membership £50 pm or MoveGB
No experience, no partner and no booking needed. We work in groups of 3 so we will partner you up and offer a spot to assure your safety.
Most people come in solo without a partner, but feel free to invite and brings friends with you if you like.
– Acroyoga combines yoga, thai massage, and acrobatics.
– Acroyoga is for Every Body.
– Size matters not.
– You will meet new people and be part of the community
Allow yourself to get a bit nervous, be silly, be upside-down and laugh a lot in a good company. You've been avoiding it for too long already 😉
We incorporate partner calibration exercises, acrobatics, acro yoga and Thai massage. The classes aim to teach core concepts, foundations and cool fun moves and transitions to help you enjoy partner acrobatics in a safe and relaxed environment. You might find it's a bit of a workout too sometimes
Main instructor Jan Tabaka has been teaching these classes in Bristol non stop for last 6 years with a range of partners and guest teachers he will be bringing to assist him for best learning experience. He is also a qualified fitness personal trainer sharing his passion for fitness for more than 10years now as well as certified Thai Yoga Masseuse and creator, owner and dance teacher of one of the biggest in the UK dance schools – Bristol Bachata featured on BBC One and BBC 4.
Read more on Acroyoga page.